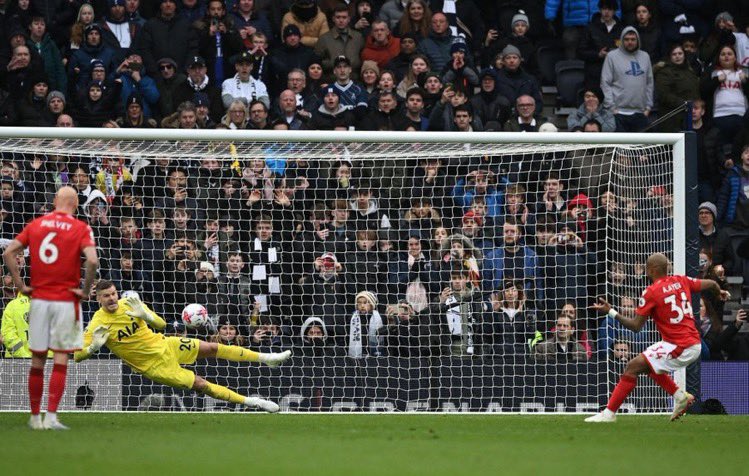 Ghanaian international footballer, Andrew Dede Ayew has once again suffered backlash for missing another penalty.
The Black Stars captain was handed the opportunity to rescue his team [Nottingham Forest] in the last minute when they clashed with Tottenham Hotspur on Saturday, losing 3-1 on aggregate.
However, the 33-year-old striker fluffed the opportunity to add to his side's goal tally and thus narrow the goal difference.
The Nottingham Forest striker was reliving his harrowing experience at the 2022 World Cup.
The Black Stars forward lost a penalty at the crucial stage of the 2022 FIFA World Cup when Ghana clashed with Uruguay in the last group-stage match of the competition.
It was an opportunity presented to the Black Stars and Ghanaians who were looking forward to seeking revenge against their South American rivals.
Uruguay in 2010 denied Ghana victory on her way to making history in South Africa.
On Twitter, many football fans have expressed displeasure with his latest penalty miss with most comments suggesting the sun may have set on the football career of the Black Star skipper.
Andre Dede Ayew kraa.. what the wrong am. He no wan peace at all in his life ong? World Cup penalty you spoil am, today too u go rush take penalty spoil. Ei.. akoaa mp3 peace ong? Smh 😅😂🤣

— Nana Fapimso (@pnorvinyo_17) March 11, 2023
Dede Ayew is a curse or what? 😂how can you be missing penalties like you don't have bones in your legs pic.twitter.com/eQ7Bpd3daP

— Agyingo😇 (@Agyingo77) March 11, 2023
This thing erh Dede Ayew and Jordan want to do some but the time they wi score a goal then ebi Atsu ein 1 year celebration 😂 pic.twitter.com/WxwP8PPafz

— Daily wins (@dailywin123) March 5, 2023
🇬🇭Andre Ayew misses his first penalty to Nottingham Forest 😕💔

This must be tough for him considering he's now missed back-to-back penalties. One for Ghana, one for Nottingham Forest 🌳 🔴 pic.twitter.com/dHjFjgh93I

— Bortey 🇬🇭 (@joelbortey) March 11, 2023
Nottingham forest regrets employing a scammer like Dede Ayew pic.twitter.com/dJYMS7oPqY

— Agyingo😇 (@Agyingo77) March 11, 2023
Andre Dede Ayew missed yet another penalty at the crucial moment. This time he did it with Nottingham Forest. Man has to stop taking penalties. Simple! pic.twitter.com/7CT6oegN9t

— Weija Sherlock Holmes (@_Wopre_dodo) March 11, 2023
Dede Ayew has missed a penalty for Nottingham Forest 😂😂😂😂😂😂😂😂😂😂😂 Landlord nie!!

— Lατιf (@iLatif_) March 11, 2023
From missing a decisive penalty at the World Cup for Ghana to missing a penalty in the EPL for Nottingham Forest, André Ayew. pic.twitter.com/ykGSWe1MyJ

— Nana Kwesi Eshun (@_NanaCwesi_) March 11, 2023
Dede Ayew misses penalties as a hobby pic.twitter.com/TrxZONjoSO

— Twilight (@the_marcoli_boy) March 11, 2023
So every penalty Dede Ayew go sit down?? pic.twitter.com/PCBWMv3FUZ

— Formula🌵 (@1realFormula) March 11, 2023
😂😂Dede Ayew has done it again pic.twitter.com/yj5szeVieL

— Realog🪐 (@thehottordze) March 11, 2023
DISCLAIMER: The Views, Comments, Opinions, Contributions and Statements made by Readers and Contributors on this platform do not necessarily represent the views or policy of Multimedia Group Limited.