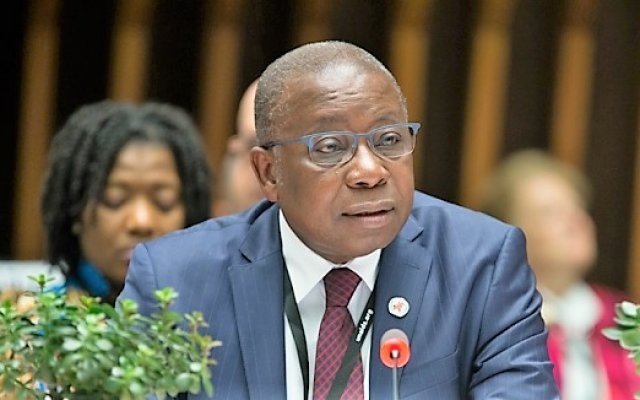 The Minister of Health, Kwaku Agyeman Manu, has refuted reports that some children have died as a result of the spike in measles cases in the country.
Over 100 children in the northern part of Ghana are suspected to have contracted measles. Fewer numbers have also been recorded in other parts of the country. According to media reports, some of these victims have succumbed to the disease.
However, addressing the media in Accra on Tuesday, Mr. Agyeman Manu said that is far from the truth.
"It is important to correct the erroneous impression that there have been deaths from Measles in Ghana recently. For the avoidance of doubt, there have been no deaths from the recently recorded spike in Measles cases. Indeed there have been no deaths since 2003, though we have recorded cases annually," the Health Minister assured.
He confimed though, that there is a shortage of child-related vaccines.
"It is true we have had some vaccine shortages in the country since the last quarter of 2022. The vaccines in short supply are BCG, Measles-Rubella (MR), and Oral Polio Vaccine (OPV). This shortage is nationwide," Mr. Agyeman Manu conceded.
He assured that the Ministry is up to the task of resolving the prevailing shortage of vaccines.
"The recent shortage in Vaccines for measles, as regrettable as it is, is symptomatic of the steady global decline in measles vaccination since the beginning of the covid-19 pandemic.
Ghana's Ministry of Health has been making efforts to ensure we secure adequate stocks of vaccines despite this global challenge.
We have made all necessary efforts to ensure that despite these challenges, we secure adequate stocks within the next few weeks," he said.
Earlier, Mr. Kwaku Agyemang-Manu was summoned to brief Parliament on March 7, over the shortage of childhood vaccines in the country.
He was scheduled to appear in the House on Tuesday, February 28, but failed to show up. 
As a result, the Minority got angry and lambasted him for his disrespect for the House. 
In fact, a member of the Health Committee of Parliament, Mohammed Mubarak Muntaka described the conduct of Minister as disrespectful. 
The former Minority Chief-Whip asked for Mr Agyemang-Manu to be subpoenaed for not appearing before the House. 
DISCLAIMER: The Views, Comments, Opinions, Contributions and Statements made by Readers and Contributors on this platform do not necessarily represent the views or policy of Multimedia Group Limited.