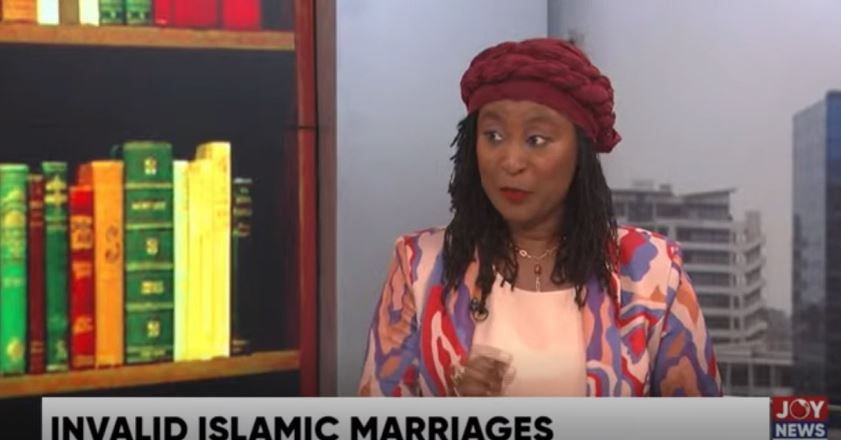 A Managing Partner at Hay and Partners at Law, Hanifa Adjoa Yahaya has opined that the 20% of Islamic marriages that have been considered valid by the Registrar General's Department may have been registered under the ordinance or as customary marriages.
According to Madam Adjoa Yahaya, her presumption is based on the fact that there are no forms available for Muslims to register their marriages under the Mohammedan or Islamic law.
This assertion by the lawyer comes on the back of a complaint made by the Head of Marriages at the Registrar General's Department, Oladele Kwaku Aribike during a dialogue organised by civic society organisation, Telling Ghana, on the theme "Working together for a better Society."
During the dialogue, Mr Aribike disclosed that 80% of Islamic marriages in Ghana are invalid, due to their inability to register under the Mohammedan law.
However, the lawyer admitted to the host of The Law, Samson Lardy Anyenini, on Sunday, that she was not surprised by the revelation made by Mr Aribike.
She said, "I am not surprised at all. And I'm wondering where the 20% are. Perhaps, they have gone under the Cap 129 or customary marriage. Perhaps, because I know that some people will go and register under the marriage ordinance, because there are no forms at the Registrar General for you [the Muslim] to pick up to register for the Islamic marriage."
Still, on the issue of invalid Islamic marriages, a research was conducted by a Ghanaian online legal search engine called Dennislaw, in which it was highlighted that there are no lawful Islamic marriages in Ghana because since the law was passed in the colonial era, the Ministry of Interior has not put in place a regime to license Mohammedan Priests, and the MMDAs have no system for registering these marriages.
Once again, Ms Yahaya stated that the lack of frameworks to register Islamic marriages and how the current law adversely affects Islamic marriages, have sparked a great deal of concern among lawyers in the nation, particularly Islamic lawyers.
This, she explained, is because they —Muslim lawyers— are aware that for a Muslim to have a marriage that is considered valid by the law, the individual getting married has to either register under the customary marriage law or the marriage ordinance.
 "These are conversations that Muslim lawyers have had in groups, and in practice. And frustrations have been raised about how when a Muslim lawyer knows that the law requires registration after the marriage, they go to the district assembly and they don't have the forms. In fact, they are surprised … because there's nothing like that. So, if you (the Muslim) need to register, then the two existing options which are easily available, they go for it."
DISCLAIMER: The Views, Comments, Opinions, Contributions and Statements made by Readers and Contributors on this platform do not necessarily represent the views or policy of Multimedia Group Limited.